Stay Tuned for the FULL Schedule of Events 
For The
40th Annual Superman Celebration
The schedule is subject to change. Follow our social media accounts for the most up to date information!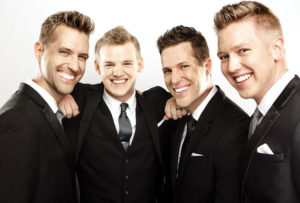 Back By Popular Demand
The Ball Brothers
"Music That Spans The Generations"
When it comes to the Ball Brothers, forget what you know about other "gospel quartets." Because this unique group stands in stark contrast to many preconceived notions regarding traditional quartet music, the Ball Brothers have found life "outside of the box." Tenor vocalist, Andrew, states, "We're a younger group and we're a different kind of group. At first, it was a struggle trying to imitate other groups and fit into the proverbial 'southern gospel mold'. We finally stopped apologizing for what we weren't and have embraced the uniqueness of our God-given voices and harmonies. Since then, our musical horizons have expanded, and our ministry has really taken off."
Quick Facts:
– Their hit song "It's About the Cross" hit #1 on the iTunes Christian Chart and has been seen over 20 millions times online.
– Their album "Breakthrough" made the top #5 on the iTunes Christian Chart.
– Won the 2011 Singing News "Horizon Group of the Year"
– Appeared on the popular Gaither Homecoming video series.a
– Performed on the Main Stage of the National Quartet Convention.
– Over 40 million online video views from 2015-2016
– Shared the stage with some of the biggest names in Christian music including: The Gaither Vocal Band, Point of Grace, Jason Crabb, Ernie Haase and Signature Sound, the Martins, Legacy Five, and many more.
– Travel more than 150 dates per year across the World.
The Superman Celebration isn't just a one-of-a-kind event celebrating all things Superman, several events held in conjunction with the Celebration serve as fundraisers for organizations.  These events are planned by organizations separate from the Metropolis Chamber of Commerce, and may have an entry fee involved.