Stay Tuned for the FULL Schedule of Events 
For The
40th Annual Superman Celebration
The schedule is subject to change. Follow our social media accounts for the most up to date information!
The Superman Celebration isn't just a one-of-a-kind event celebrating all things Superman, several events held in conjunction with the Celebration serve as fundraisers for organizations.  These events are planned by organizations separate from the Metropolis Chamber of Commerce, and may have an entry fee involved.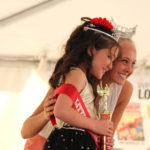 Zeta Zeta Service Sorority Beautiful Baby and Little Miss Supergirl & Mr. Superboy Pageant Saturday 4:00 PM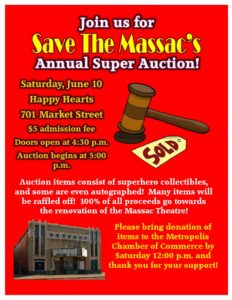 Save The Massac Benefit Auction, Saturday 5:00 PM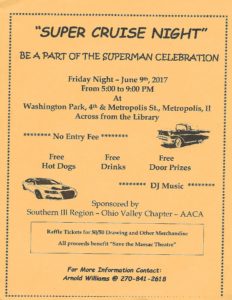 Save The Massac, Super Cruise In – Friday 5:00 PM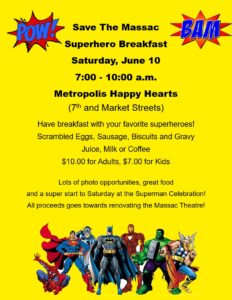 Save The Massac – Superheroes Breakfast- Saturday 7:00 AM
There are 2 CAN'T MISS Events at the 39th Annual Superman Celebration!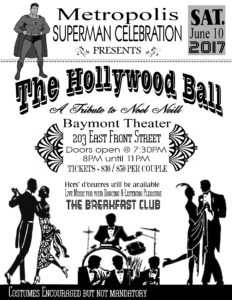 Saturday Night! 10 Years ago we celebrated Noel Neill's Birthday with The Hollywood Ball.  This year we will honor the life of the First Lady of Metropolis.  Tickets are available at the Chamber of Commerce.  $30.00 for Singles/ $50.00 for Couples.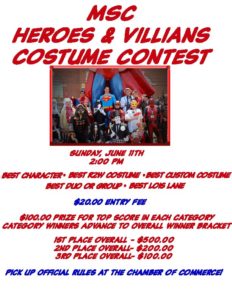 It's Back! And Better Than Ever!  The grande finale of the Superman Celebration is the MSC Heroes & Villains Costume Contest! You could walk away with $600.00 if you have the BEST overall costume!