The 40th Annual Superman Celebration Artist Alley
Featured Artists & Writers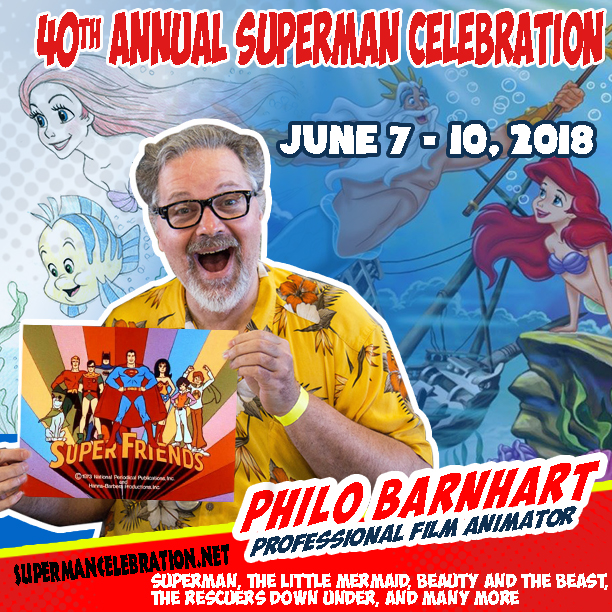 Philo Barnhart
Philo Barnhart was considered a Disney brat.  Philo's hand has touched many, many animated TV shows and feature films. Have you heard of Super Friends? He work on that. Star Trek the Motion picture? He work on that. Smurf, Jem and the Holograms, Space Ace, Dragons Lair? The 13 ghosts of Scooby Doo. YES HE WORK ON ALL OF THEM!  We could spend hours listing more titles and the answer would be"HE WORKED ON THAT!"
A couple of his crowning jewels are The Secret OF NIMH character key assistant and The Little Mermaid (character designer) / (character key). He also worked on consumer products for several years with Disney. You can still find his artwork to this day on toys, books, home electronics/appliances, apparel and posters!
Currently Philo is working with Silver Phoenix Entertainment Inc. His Latest title is WHISPERS FROM THE VOID!™
Check out his Facebook art page.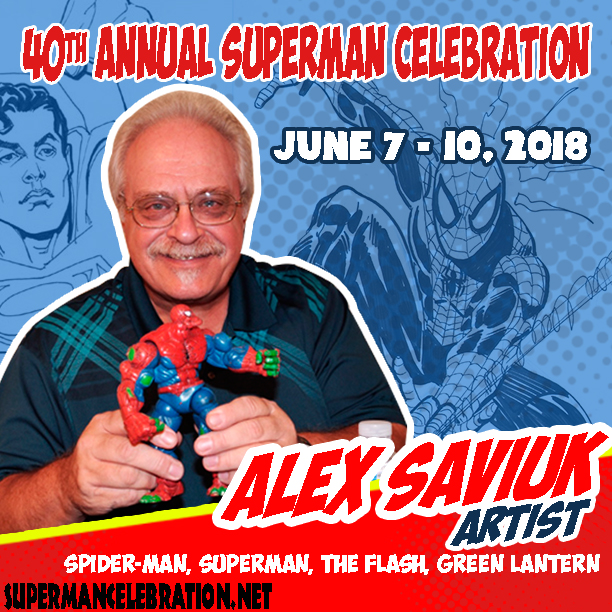 Alex Saviuk
Alex Saviuk is an American comic book artist. He graduated from the School of Visual Arts in 1974 and began his professional career with DC Comics three years later. For this company, he illustrated characters such as 'Superman', 'Green Lantern' and 'The Flash' for DC Comics Presents. In the 1980s he was a regular artist for Action Comics, drawing features like 'Steel Man', 'The Atom', 'Air-Wave', and 'Aquaman'.
By the mid 1980s, Saviuk moved over to Marvel, where he started out doing cover work for titles such as 'New Universe' and a run on 'Defenders of the Earth'. But he became best known for his work on 'Spider-Man', starting a seven-year run on 'Web of Spider-Man' in 1988. Between 1994 and 1996 he drew the series 'Spider-Man Adventures', that later became 'The Adventures of Spider-Man', and that was based on the animated series. He draws the 'Amazing Spider-Man' Sunday newspaper strip from scripts by Stan Lee since 1997 and since 2003 he also serves as the inker of Larry Lieber's daily 'Spider-Man' strip.
In 1997 and 1998 Saviuk also drew a lot of 'The X-Files' stories for Topps comics. He is also an artist with the Swedish publisher Egmont and the Australian publisher Frew on stories wit 'The Phantom'. He also assisted Will Eisner on a story of 'The Spirit' in 2005 and he also does storyboards and conceptual art for use in advertising and films.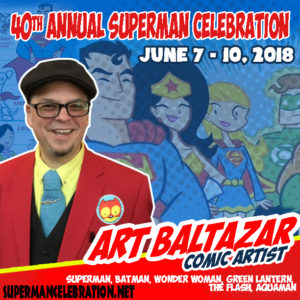 Art Baltazar
Famous Cartoonist, ART BALTAZAR is the creative force behind The New York Times Best Selling, Eisner Award Winning DC Comics' TINY TITANS, Co-Writer for Billy Batson and the Magic of SHAZAM, Young Justice, Green Lantern Animated (Comic), and Artist/Co-Writer for the awesome TINY TITANS/Little ARCHIE crossover, SUPERMAN FAMILY ADVENTURES, SUPER POWERS and Itty Bitty HELLBOY! Art is one of the founders of AW YEAH COMICS comic shop and the ongoing comic series! Aw Yeah living the dream! He stays home and draws comics and never has to leave the house! He lives with his lovely wife, Rose, sons Sonny and Gordon, and daughter Audrey! AW YEAH MAN! www.artbaltazar.com
-#8 on the New York Times best Seller March 2009 for Tiny Titans vol. 1 Trade Paperback!
-Eisner Award 2009 Best Publication for Kids!
-Eisner Award 2011 Best Publication for Kids
-Eisner Award 2014 Best Publication for Kids
-Harvey Award 2011 Best Original Graphic Publication for Younger Readers
-Columbia College Chicago 2012 Alumnus of the year Award
-AW YEAH COMICS 2013 Skokie Merchant of the Year
-ILLINOIS READS' grades 3-5 list. 2017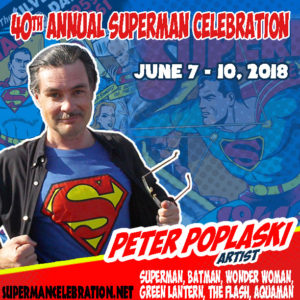 Peter Poplaski
Peter Poplaski is an American cartoonist, painter, editor and author who shares his time between France and Wisconsin. He began his professional career in 1971 at Kitchen Sink Press as a staff artist, contributed to various underground comic books, eventually becoming the publisher's Art Director. Poplaski designed covers and books for such notable artists as Harvey Kurtzman, Will Eisner and Milton Caniff while all three were alive. He edited and designed all but one of the twenty-six "Steve Canyon" magazines and books published by Kitchen Sink; designed and colored many of Eisner's "Spirit" comic books, magazines and graphic novels, and designed and colored Kurtzman's "Goodman Beaver," as well as many other projects.
He also designed and participated in the editing dozens of Kitchen Sink's Li'l Anner, Alley Oop, Flash Gordon and other classic newspaper strip collections. His mimicking abilities are so great that he has ghosted Al Capp covers, Steve Canyon pages and other artists so well that the estate or living artist himself could not tell the difference.
Poplaski drew the classic wraparound covers for the soft and hardcover editions of "Batman: The Dailies" (3 soft cover volumes + hardcover collection) "Batman: The Sundays" (soft + hard) "Superman: The Dailies" " (3 soft cover volumes + hardcover collection) and "Superman: The Sundays" (soft + hard) co-published by Kitchen Sink and DC Comics.
Poplaski has developed a close association with Robert Crumb, beginning with designs for assorted Crumb merchandise, comix and books published by Kitchen Sink. He edited and designed "The R. Crumb Coffee Table Art Book" (Kitchen Sink and Little, Brown) and "The R. Crumb Handbook." Crumb wrote the introduction to "The Sketchbook Adventures of Peter Poplaski," while other fans (Mark Schultz, Harlan Ellison, Eisner and Frank Miller) wrote blurbs.
When Will Eisner died in January 2005, with "Expressive Anatomy," the final volume of his educational trilogy unfinished, Poplaski was tapped by W. W. Norton to ink Eisner's penciled art.
Poplaski is an accomplished oil painter whose landscapes, portraits and still lifes have graced numerous galleries. A life-long obsession with Zorro has permeated his work. He has painted numerous self-
portraits as Zorro, has the world's largest collection of Zorro posters, and is currently working on ZORRO: The Myth and the Image, a definitive study of the masked heroic archetype. He frequently paints in the south of France in full Zorro costume, a technique that inevitably attracts customers to his work-in-progress, some of whom, attracted initially out of mere curiosity, leave impressed with his talent and a painting under their arm.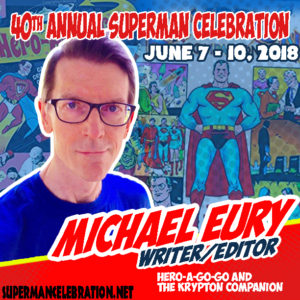 Michael Eury
Michael Eury is theEditor-in-Chief of TwoMorrows' Eisner Award-nominated Back Issue magazine.  Eury has worked as a writer or editor for DC Comics, Dark Horse Comics, Marvel Comics, Nike, Toys R Us, The Microsoft Network, Warner Bros. Worldwide Publishing, Arcadia Publishing, and others, on properties including Legion of Super-Heroes, Who's Who in the DC Universe, Ghost, Sensational She-Hulk, and Adventures of the Mask. An Overstreet Comic Book Price Guide advisor, Michael has written or co-written over a dozen books about comic-book and regional history including Hero-A-Go-Go and The Krypton Companion. His newest project is his editorship of RetroFan, a quarterly pop-culture magazine from TwoMorrows, which launches in June 2018
Special Guest Artist & Writers
Brian K. Morris

Sean Dulaney

Trevor Hawkins
Candice Comelleri

Jim Hall

Brett Houzenga