The 41st Annual Superman Celebration Artist Alley & Writers Way 
To download the Artist Alley & Writer's Way Application & Policies, please click here.  
Click on the .pdf file and download or print the file.  Please contact us if you have any questions.
2018 Featured Artists & Writers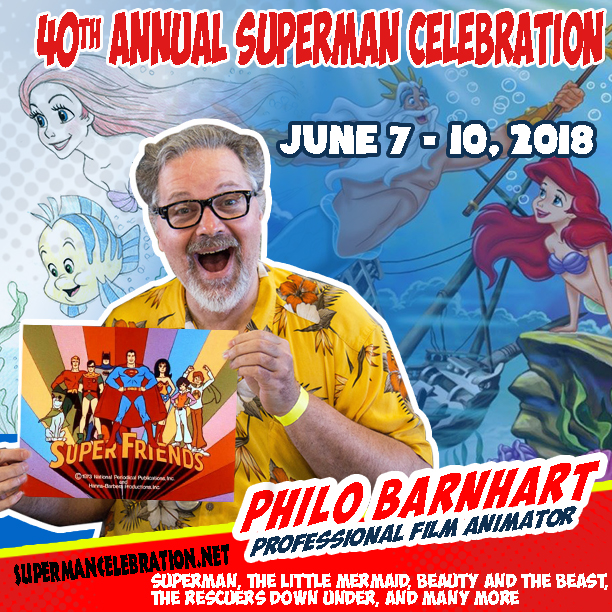 Philo Barnhart
Philo Barnhart was considered a Disney brat.  Philo's hand has touched many, many animated TV shows and feature films. Have you heard of Super Friends? He work on that. Star Trek the Motion picture? He work on that. Smurf, Jem and the Holograms, Space Ace, Dragons Lair? The 13 ghosts of Scooby Doo. YES HE WORK ON ALL OF THEM!  We could spend hours listing more titles and the answer would be"HE WORKED ON THAT!"
A couple of his crowning jewels are The Secret OF NIMH character key assistant and The Little Mermaid (character designer) / (character key). He also worked on consumer products for several years with Disney. You can still find his artwork to this day on toys, books, home electronics/appliances, apparel and posters!
Currently Philo is working with Silver Phoenix Entertainment Inc. His Latest title is WHISPERS FROM THE VOID!™
Check out his Facebook art page.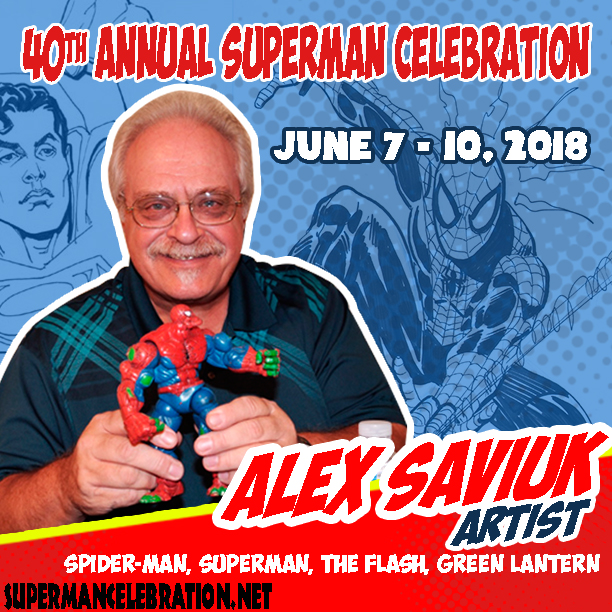 Alex Saviuk
Alex Saviuk is an American comic book artist. He graduated from the School of Visual Arts in 1974 and began his professional career with DC Comics three years later. For this company, he illustrated characters such as 'Superman', 'Green Lantern' and 'The Flash' for DC Comics Presents. In the 1980s he was a regular artist for Action Comics, drawing features like 'Steel Man', 'The Atom', 'Air-Wave', and 'Aquaman'.
By the mid 1980s, Saviuk moved over to Marvel, where he started out doing cover work for titles such as 'New Universe' and a run on 'Defenders of the Earth'. But he became best known for his work on 'Spider-Man', starting a seven-year run on 'Web of Spider-Man' in 1988. Between 1994 and 1996 he drew the series 'Spider-Man Adventures', that later became 'The Adventures of Spider-Man', and that was based on the animated series. He draws the 'Amazing Spider-Man' Sunday newspaper strip from scripts by Stan Lee since 1997 and since 2003 he also serves as the inker of Larry Lieber's daily 'Spider-Man' strip.
In 1997 and 1998 Saviuk also drew a lot of 'The X-Files' stories for Topps comics. He is also an artist with the Swedish publisher Egmont and the Australian publisher Frew on stories wit 'The Phantom'. He also assisted Will Eisner on a story of 'The Spirit' in 2005 and he also does storyboards and conceptual art for use in advertising and films.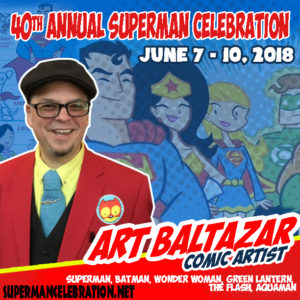 Art Baltazar
Famous Cartoonist, ART BALTAZAR is the creative force behind The New York Times Best Selling, Eisner Award Winning DC Comics' TINY TITANS, Co-Writer for Billy Batson and the Magic of SHAZAM, Young Justice, Green Lantern Animated (Comic), and Artist/Co-Writer for the awesome TINY TITANS/Little ARCHIE crossover, SUPERMAN FAMILY ADVENTURES, SUPER POWERS and Itty Bitty HELLBOY! Art is one of the founders of AW YEAH COMICS comic shop and the ongoing comic series! Aw Yeah living the dream! He stays home and draws comics and never has to leave the house! He lives with his lovely wife, Rose, sons Sonny and Gordon, and daughter Audrey! AW YEAH MAN! www.artbaltazar.com
-#8 on the New York Times best Seller March 2009 for Tiny Titans vol. 1 Trade Paperback!
-Eisner Award 2009 Best Publication for Kids!
-Eisner Award 2011 Best Publication for Kids
-Eisner Award 2014 Best Publication for Kids
-Harvey Award 2011 Best Original Graphic Publication for Younger Readers
-Columbia College Chicago 2012 Alumnus of the year Award
-AW YEAH COMICS 2013 Skokie Merchant of the Year
-ILLINOIS READS' grades 3-5 list. 2017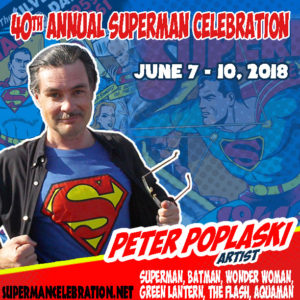 Peter Poplaski
Peter Poplaski is an American cartoonist, painter, editor and author who shares his time between France and Wisconsin. He began his professional career in 1971 at Kitchen Sink Press as a staff artist, contributed to various underground comic books, eventually becoming the publisher's Art Director. Poplaski designed covers and books for such notable artists as Harvey Kurtzman, Will Eisner and Milton Caniff while all three were alive. He edited and designed all but one of the twenty-six "Steve Canyon" magazines and books published by Kitchen Sink; designed and colored many of Eisner's "Spirit" comic books, magazines and graphic novels, and designed and colored Kurtzman's "Goodman Beaver," as well as many other projects.
He also designed and participated in the editing dozens of Kitchen Sink's Li'l Anner, Alley Oop, Flash Gordon and other classic newspaper strip collections. His mimicking abilities are so great that he has ghosted Al Capp covers, Steve Canyon pages and other artists so well that the estate or living artist himself could not tell the difference.
Poplaski drew the classic wraparound covers for the soft and hardcover editions of "Batman: The Dailies" (3 soft cover volumes + hardcover collection) "Batman: The Sundays" (soft + hard) "Superman: The Dailies" " (3 soft cover volumes + hardcover collection) and "Superman: The Sundays" (soft + hard) co-published by Kitchen Sink and DC Comics.
Poplaski has developed a close association with Robert Crumb, beginning with designs for assorted Crumb merchandise, comix and books published by Kitchen Sink. He edited and designed "The R. Crumb Coffee Table Art Book" (Kitchen Sink and Little, Brown) and "The R. Crumb Handbook." Crumb wrote the introduction to "The Sketchbook Adventures of Peter Poplaski," while other fans (Mark Schultz, Harlan Ellison, Eisner and Frank Miller) wrote blurbs.
When Will Eisner died in January 2005, with "Expressive Anatomy," the final volume of his educational trilogy unfinished, Poplaski was tapped by W. W. Norton to ink Eisner's penciled art.
Poplaski is an accomplished oil painter whose landscapes, portraits and still lifes have graced numerous galleries. A life-long obsession with Zorro has permeated his work. He has painted numerous self-
portraits as Zorro, has the world's largest collection of Zorro posters, and is currently working on ZORRO: The Myth and the Image, a definitive study of the masked heroic archetype. He frequently paints in the south of France in full Zorro costume, a technique that inevitably attracts customers to his work-in-progress, some of whom, attracted initially out of mere curiosity, leave impressed with his talent and a painting under their arm.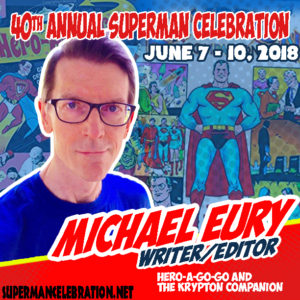 Michael Eury
Michael Eury is theEditor-in-Chief of TwoMorrows' Eisner Award-nominated Back Issue magazine.  Eury has worked as a writer or editor for DC Comics, Dark Horse Comics, Marvel Comics, Nike, Toys R Us, The Microsoft Network, Warner Bros. Worldwide Publishing, Arcadia Publishing, and others, on properties including Legion of Super-Heroes, Who's Who in the DC Universe, Ghost, Sensational She-Hulk, and Adventures of the Mask. An Overstreet Comic Book Price Guide advisor, Michael has written or co-written over a dozen books about comic-book and regional history including Hero-A-Go-Go and The Krypton Companion. His newest project is his editorship of RetroFan, a quarterly pop-culture magazine from TwoMorrows, which launches in June 2018
Special Guest Artist & Writers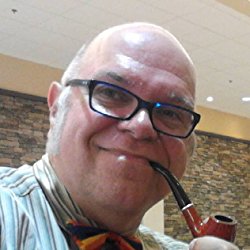 Brian K. Morris
Brian K. Morris realized he wanted to be a writer in seventh grade when it occurred to him that properly connected words had power over an audience. The following decades were spent convincing others of his sincerity. His work has been published in magazines such as BACK ISSUE Magazine, Hogan's Alley, Knights of the Dinner Table, WHOtopia, The Jack Kirby Collector, and many other magazines in varying degrees of obscurity.  Brian's has been seen in The Krypton Companion and a couple of short stories in the With Great Power anthology, along with participating as a member of the group developing and putting together skits that open and close the annual Superman Celebration in Metropolis, Illinois. In addition, I've been a member of the Script Development Team for Audio Movies, LLC, bringing excitement to the most silver of screens.  While working on new novels, Brian writes comic book scripts for his friends at BiMor Comics, Silver Phoenix Enterprises, Pwack Comics, and others.  In addition to all of this, Brian also gives seminars on storytelling, motivation, self-publishing, and comics history. 
Sean Dulane
Sean Dulaney is a writer/artist/editor and broadcaster from Southern Illinois. In the comics field, his work includes 51 Delta (Arcana Studios), the "IT" Girl Murders (Markosia), F. Stein, Consulting Detective, Dreah, Queen Of Thieves And the recent Kickstarter Funded Miss Vicky & Her Cutie Commandos. As an editor, he has overseen the revived Fantastic Adventures title which mixes reprint material from the Ace Comics archives with new material related to the issues' themes. In recent years, Sean has spearheaded the annual radio show recreation during Metropolis, IL's Superman Celebration.
Trevor Hawkins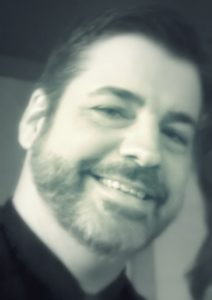 Trevor believes that art can and should be made based on what the artist perceives as relevant. Taking an image that moves him and then applying his own style, he creates art that goes several steps beyond the original subject. The worlds of science fiction, comic books and animation offer vast visual inspiration for making serious artwork. In eras long past, many artists were inspired to make serious artworks based on mythology and legends popular at the time. Statues and paintings of the Greek and Roman gods garner serious academic attention to this day. Perhaps Superman, Batman, and Wonder Woman will ascend to such status too, if enough time passes… While most artists tend to focus on one certain style, Trevor demonstrates the ability to work successfully in several genres simultaneously. Recognizable influences on his unique style include Impressionism, Expressionism, Pop Art, and classical portraiture. Kevin Conroy, the voice of Batman in the Warner Brother's network "Batman: The Animated Series" and "Batman Beyond" has praised Trevor as "a great artist." In his quest to capture the essence of his subject matter, Trevor works in a process method, using layer upon layer of paint and mixed media. He uses color, line and texture as tools to express mood and atmosphere in his work.
Candice Comelleri
Candice Comelleri is an award-winning freelance fine artist. Originally from Bayonne, New Jersey, she now resides in Terre Haute, Indiana. Her artwork can be found in private collections all around the world. She has been drawing ever since she was a little girl. She had dedicated her life to using her art to make a difference. She is currently an artist for the podcast called Victims and Villains. A nerd podcast dedicated to suicide awareness and other mental health issues while bringing a message of hope to all who may feel lost. She specializes in painting with acrylics, watercolors, and mixed media. She loves to create all things pop culture while tapping into her expressionistic style of painting. She loves meeting new people and making others happy through her art.
Jim Hall
Jim is a comic artist who has produced illustrations for major corporations, including FedEx, Warner Brothers, Sony Signature, Sheraton Casinos, and Acclaim.  His comic work has been published by Marvel, DC, and Dark Horse among others.
 Brent Houzenga
Brent Houzenga is New Orleans-based painter and musician originally from Fulton, IL. Houzenga earned his B.A. in printmaking from Western Illinois University and will be completing his MFA at the University of New Orleans in 2017. Houzenga's art has graced the walls of some of the top galleries in Warsaw, Chicago, Kansas City, Washington D.C., Portland, Los Angeles, Austin, Miami, and New Orleans.  His show "Fire Department" at the Dubuque Museum of Art in Dubuque, Iowa, was exhibited beside one of America's most treasured artists, Grant Wood. In 2012 he was commissioned to paint a portrait for Matthew McConaughey's personal collection.
Houzenga's work has been featured in publications such as Time Out Chicago, Art and Art Galleries of the South, Art+Design New Orleans, as well as the Rizzoli book Stickers: From Punk Rock to Contemporary Art. He is the subject of the independent documentary film Brent Houzenga: Hybrid Pioneer.