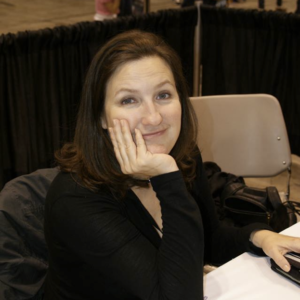 Amanda Conner
Artist
Amanda Conner started out in comics working on small projects for Marvel and Archie. She had been working as an illustrator for New York ad agencies Kornhauser and Calene and Kidvertisers. She worked on a number of launches and campaigns such as Arm & Hammer, PlaySchool and Nickelodeon, to name a few.
However, loving comic books and cartooning the most, Amanda found herself working for Marvel on their Barbie line (many of Amanda's covers were made into designs for the line of Barbie toys), Disney line which inlcuded the Gargoyles books. At the same time she was illustrating Soul Searchers & Co. for Claypool Comics and worked on other Marvel projects, such as Excalibur for the X-Men line and Suburban Jersey Ninja She-Devils.
 Amanda then moved on to work several years as artist on the hit series Vampirella for Harris Comics , working with the top writers in the field, Grant Morrison, Mark Millar and Warren Ellis.
Since then, Amanda has moved on and has worked on many of the top titles in comics such as Supergirl, Painkiller Jane, Powergirl, Wonder Woman, Lois Lane, Codename: Knockout, Terra and Birds of Prey, X-Men Unlimited for Marvel, co-created Gatecrasher for BlackBull Comics, and The Pro, a creator owned book for image with Jimmy Palmiotti and Garth Ennis and Superzero for Aftershock comics. 
 Amanda's work can also be seen outside the comic book community in such places as The Big Bang Theory, ABC'S Nightline, the New York Times, Mad Magazine, character designs for film and television, and Amanda is featured in a Biography magazine commercial on A&E.
 Amanda's current work can be seen in Harley Quinn bi-weekly and issue 3 of Kamandi for DC Comics, as well.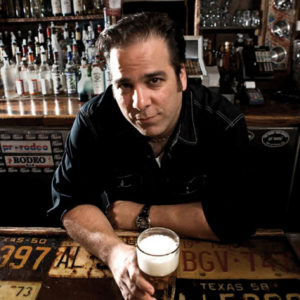 Jimmy Palmiotti
Writer & Comic Artist
Jimmy Palmiotti is a Brooklyn-born multi award winning character creator with a wide range of experience in advertising, production, consulting, editorial, screen writing, development and production, and video game development. Just a few of his clients include Nike, Nickelodeon, Universal pictures, Disney, Marvel, Warner Brothers, DreamWorks, Lionsgate, Vidmark, Starz, Fox, Alliance films, New Line, Spike TV, MTV, 2kgames, Midway, Radical games, Activision and THQ games.
He is cofounder of such companies as Event Comics, Black Bull Media, Marvel Knights a division of Marvel comics, and the current Paperfilms publishing company where he has created and co created numerous universes, comics, video games, TV series, and screenplays.
His current work includes: Harley Quinn and The Jetsons for DC Comics, Superzero for Aftershock entertainment, Forager for Jet City Comics. He currently has four feature films in development: The Monolith with Lionsgate films, Random Acts of Violence with Kickstart Entertainment and Painkiller Jane in development with Jessica Chastain, Freckle Films, Lotus Entertainment and Solipsist films.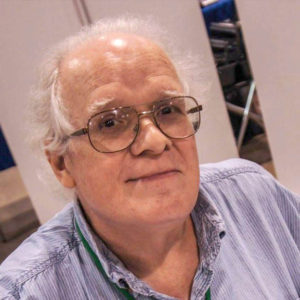 John Ostrander
Writer & Comic Artist
John Ostrander is an American writer of comics. Originally an actor in a Chicago theatre company, he moved into writing comics in 1983. His first published works were stories about "Sargon, Mistress of War" published in the First Comics series "Warp", based on a series of plays by that same Chicago theatre company. He is co-creator of the character Grimjack with Timothy Truman, published originally as a back up story in the First Comics title, Starslayer, before going on to appear in a comic of the same name, again published by First Comics in the mid 1980s. First Comics ceased publication in 1991, and Ostrander went on to work at other comics companies.

Prior to his career in comic books, Ostrander studied theology with the intent of becoming a Catholic priest. His in-depth explorations of morality were later used in his work writing The Spectre, a DC Comics series about the manifestation of the wrath of God. His focus on the character's human aspect, a dead cop named Jim Corrigan, and his exploration of moral and theological themes brought new life to a character often thought of as impossible to write. He has also worked on Firestorm, Justice League, Martian Manhunter, Manhunter, Suicide Squad, and Wasteland for DC.

From the mid-1980s until her death from breast cancer in 1997, Ostrander frequently co-wrote with his wife Kim Yale. It was while working with her that he made what is probably his most lasting contribution to the DC Universe: the recasting of Barbara Gordon, the former Batgirl, into the information and computer specialist Oracle.

At Marvel comics, Ostrander has also worked on X-Men, Bishop, Quicksilver, Heroes for Hire and the Punisher.
He has had a significant career at Dark Horse Comics as well, writing (or co-writing) the overwhelming majority of the company's Star Wars titles set in the prequel trilogy era, most notably the flagship title, Star Wars: Republic. His most significant contribution at Dark Horse is arguably his help in creating Aayla Secura and Quinlan Vos, the only two characters who were created in comics and then moved to a Star Wars feature film.
DC Comics' Suicide Squad was first introduced in 1959's The Brave and the Bold #25, but the modern day version we know and love didn't take shape until comic book writer, John Ostrander, revived it in 1987's Legends #3 with inspiration from 1967's The Dirty Dozen. He introduced Amanda Waller and her Task Force X, a team of lower-tier, imprisoned super-villains who carry out dangerous, covert missions for the U.S. government in exchange for commuted sentences. His run from the late-'80s to the early-'90s was a success both critically and commercially. In 2007, he returned to the property with an 8-issue miniseries, which featured many of the characters that appear in the 2016 hit movie Suicide Squad starring Will Smith, Jared Leto & Margot Robbie.

Ostrander has also written for other comics companies: Hotspur for Eclipse Comics; Lady Death for Chaos! Comics; Magnus, Robot Fighter, Rai and the Future Force, and Eternal Warrior for Valiant Comics.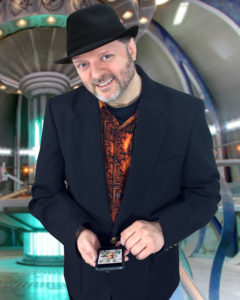 Todd Aaron Smith
Animator, storyboard artist, illustrator, Lucasfilm licensed artist
Todd Aaron Smith has worked as a professional animator and storyboard artist for projects like The Adventures of Superman, Batman: The Animated Series, Spider-Man, The Avengers, Family Guy, Godzilla, Pokemon and countless others.
Todd also has just illustrated his tenth set of Star Wars trading cards for Topps that include Galactic Files, Star Wars Illustrated: A New Hope, Return of the Jedi 3D, Revenge of the Sith 3D, Star Wars Masterworks, The Force Awakens, Rogue One and Star Wars: 40th Anniversary.
He has illustrated sketch cards for The Hobbit, Star Trek: The Original Series, DC Comics, Marvel Comics, Ghostbusters, Marvel's Agents of SHIELD, Warcraft and many others.  He is currently working on the trading cards for the upcoming movie Spider-Man: Homecoming.
Don't miss your chance to meet one of the first artists to ever draw Harley Quinn professionally!
Gwenda Bond
Author
Gwenda Bond writes YA and children's fiction. Her novels include the Lois Lane series (Fallout, Double Down, and 2017's Triple Threat), which bring the iconic comic book character front and center in her own YA novels, and the Cirque American series (Girl on a Wire, Girl Over Paris, Girl in the Shadows), about daredevil heroines who discover magic and mystery lurking under the big top. She and her husband author Christopher Rowe are also launching a middle grade series, the Supernormal Sleuthing Service, in 2017 with The Lost Legacy.
Her nonfiction writing has appeared in Publishers Weekly, Locus Magazine, the Los Angeles Times, and many other publications. She has an MFA in writing from the Vermont College of Fine Arts. She lives in a hundred-year-old house in Lexington, Kentucky, with her husband and their unruly pets. There are rumors she escaped from a screwball comedy, and she might have a journalism degree because of her childhood love of Lois Lane. She writes a weeklyish letter you can sign up for at www.tinyletter.com/gwenda. Visit her online at www.gwendabond.com or @gwenda on Twitter.